DATE
Saturday 7th of May 2022
TIME
7.30pm Start
Doors open to members and guests at 6.30pm
Mini auction starts at approximately 8.30pm.
WHERE
Nuwarra Public School, Mckay Ave, Moorebank NSW
ENTRY
Financial Members: Free Entry
Non-Members / Guests: $2 per visitor over the age of 18 (non-members)
WHAT'S ON THIS MONTH?
MEMBERS TALK
Chris Davis will be giving a talk on A Trio of Neo: Neolamprologus caudopunctatus, cylindricus and buescheri Kamakonde. A must see for anyone interested in keeping or breeding Tanganyikan cichlids.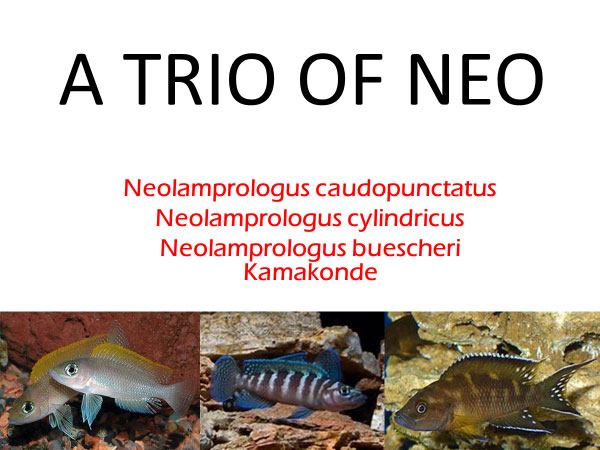 MINI AUCTION
Mini auctions usually start at approximately 8.30pm.
If you would like any information about the Mini Auction, please visit the Auctions page which has detailed information about buying and selling and all of the rules.
ENTERING AUCTION LOTS
For those financial members entering lots (see here for mini auction book in sheet and mini auction rules)
Read and follow the bagging rules (see here for bagging guide)
Read and follow the minimum sizing rules (see here for minimum sizing rules) for the fish your are entering into the auction.
If you think the fish you are entering is rare, or believe we may not have this fish in our database of photos, please bring a photo along with you on a USB so we can upload the picture for the auction. If we have a picture, more people are able to see what the fish looks like before they commit to bidding!
BIDS & PAYMENT
Bids: will be in minimum amounts of:
$1 increments from $1 to $20.
$2 increments from $20 to $50.
$5 increments beyond $50 and $10 bids after $100.
Note: auctioneers may accept bids less than the increments if they see fit.
Payment: Cash only.
MEMBERS GIVEAWAY
Lucky door prize for MEMBERS in attendance only on the night
TRADE TABLE & SUPPER TABLE
The Trade Table will be open for all your fish needs. Food, bags and many other items available for sale! Ray will be able to help you out!
Re-bagging Auction fish available from $2
Karen will be at the supper table with plenty of food and drinks to be purchased on the day!
RAFFLE
Do you want to win a great prize on the night!?
We will be having a raffle with fish and dry goods as prizes.
Raffle tickets will be available to be purchased on the night!
1 strip of 6 tickets – $5
11 strips of 6 tickets – $50
24 strips of 6 tickets – $100
ARTICLES ????
Do you have any articles that our Editor, Chris Davis, could use for our Magazine? This is your chance to share what you have! Club money up for grabs! Speak to our Editor at our meetings for more information!
ENTRY & MEMBERSHIP
For those members who are financial - ENTRY IS FREE!
Members that had an existing active membership over the covid closure will not need to renew their membership until the next Annual General Meeting.
You must be a financial member to be eligible for the members giveaway, enter lots into mini auctions, and collect lots for major auctions. See the membership team on the night at the door to confirm your membership status.
GENERAL MEETING INFORMATION
Meetings are held on the 1st Saturday of each month, except in January.
NO MEETING HELD IN JANUARY
Major Auctions are held on 1st Saturday of April & October
(usually, however due to this April meeting being our first since returning from a Covid break, it will be a normal meeting with mini auction)
Christmas Meeting is held on 1st Saturday of December
NEXT MEETING: SATURDAY 4 June 2022